Open House Day - Saturday,  August  12, 2023
Open House - July 16, 2022
Our info flyer "Invitation to get to know us" had been finished shortly before and was ready for the taking.

Convenient viewing and downloading here
The digital version is displayed below in the gallery - in Kurdish in both writing systems, in German and English.  And here is the download in English

We had less visitors this year than we had imagined, which may still be related to the Corona pandemic, or because of the vacation season.

This year's visitors by name
Rezan Abdullahi, Peyman Abdullah, Bakir Ali, Dr. Irfan Mustafa Amin, Hello Barzinjeyie, Prof. Kenan Engin, Dr. Yashar Kırgız, Aras Marouf, Jutta Neuendorf, Dagmar Neumann, Osman Tofiq.
Event with momentum
Our second Open House definitely had its own momentum as the representatives of the Foundation, Dr. Hanne Küchler, Jan Gosau and Salar Pashaie, and the aforementioned visitors had plenty of opportunity to engage with each other, more than the year before. What started with casual conversations in small groups led to a  truly varied exchange.

This may have been due to the fact that we had several visitors who were also happy to actively contribute themselves and their topics. However, the Foundation's self-presentation, its wide-ranging interests and concerns, probably paved the way for the open exchange.
Stimulating open exchange
In any case, many topics came up in the two large discussion rounds. One important major topic was the situation of Kurdish migrants in Germany and elsewhere.
As far as the educational successes of Kurdish migrant children are concerned, these successes are not uncommon, there was agreement on that, provided the family environment is right and provides protection and support for the children.
One visitor brought up that he thought research on "Kurdish migration in Germany" would be valuable and suggested it to be applied to the period after World War I, from 1920 onwards, which was commented on from several sides.
A long-time friend of the namesake of our foundation as well as his brother, who has also been living in Germany for many years, would rather have the life and work of Jemal Nebez researched,
We also had a visitor who has given up his secure academic environment in his home country and is very keen to resume his research here. He asked the key question: what opportunities are there in Germany and elsewhere far from home for researchers in exile?

The Humboldt Foundation might be one place to turn to, was the immediate reaction, which was then considered from several sides. The board of directors pointed out that the Jemal Nebez Foundation could also help capable researchers in exile to obtain a research fellowship. According to §2, paragraph 4 of its statutes, it is entitled, or rather obliged, to further research on specific topics concerning Kurds or Kurdistan. However, it is only able to do so if financially strong sponsors provide the funds.
Unanimously identified urgent need for research
How to alleviate the existing deficit in research concerning the history of the Kurds and Kurdistan in the broadest sense or narrowly tailored to Germany, such as the educational achievements of Kurdish migrant children and how to improve them, was then a long-discussed topic. One possibility would be to raise funds and provide research grants, for example through the Jemal Nebez Foundation.

A rose in memory of Jemal Nebez
In the house where the foundation is housed, our namesake is still personally known. A neighbor came late in the afternoon, together with a friend, and brought a rose in a pot to plant in memory of Jemal Nebez, which was soon implemented in the courtyard garden, near the terrace belonging to the Foundation.



Invitation
Like all non-profit institutions, the Jemal Nebez Foundation invites you to an Open House once a year. In the summer of 2022 this will be Saturday, July 16th.

We do not have much space in our premises near the subway station Spichernstraße and ask you to let us know your interest for this, gladly via our contact form, and whether you would like to come in the morning or in the afternoon. We will confirm your request if possible.

To make more out of less space, we will organize a kind of tour. The entrance is in the courtyard at the back, on the left, through our terrace - and through the hallway inside and the hallway of the house you can get to the exit of the side wing.

If the demand is very high, we plan to adjust the program schedule and indicate it in the confirmation.
 Preliminary program

Preliminary Program

Morning
10:30 Arrival
11:00 - 11:30                        Welcome with topical reference,
                                                      - Dr. Hanne Küchler, 1st Executive Board,
                                                     Time for add-ons or questions
11:30 - 12:00                         What we offer in terms of transparency,
                                                       -Jan Gosau, Industrial Engineer, Board of Directors
                                                      Time for questions, suggestions of the guests

12:00 - 13:00                        Status of our long-term project,
                                                      Guided tour with and without projector,
                                                      - Salar Pashai, Office Manager
                                                     Time for questions
Per section, there is enough time for exchange with the guests.

13:30 - 14:00                       Break, tea & snack

Afternoon
14:30                                         Arrival
15:00 - 15:30                        Welcome with topical reference,
                                                       - Dr. Hanne Küchler, 1st Executive Board,
                                                      Time for add-ons, questions of the guests
15:30 - 16:00                        What we offer in terms of transparency,
                                                      - Jan Gosau, Industrial Engineer, Board of Directors
                                                      Time for questions, suggestions of the guests
16:00 - 17:00                        State of our long-term project,
                                                      Guided tour with and without beamer,
                                                     - Salar Pashai, Office Manager
                                                     Time for questions
17:30                                         Good byes
 You can reach us comfortably via our contact form. Phone: +49 (0) 30 86 12 653; Fax: +49 (0) 30 86 15 706
E-Mail: jemal-nebez-foundation (at) t-online.de
Web address: info (at) jemal-nebez-foundation.org
https://jemal-nebez-stiftung.org
Archive 2021
Last Year's Open House - Saturday/July 17, 2021
All the worries and concerns we had in the run-up to our first Open House evaporated when the first announced guests arrived.
Our new sign at the terrace entrance was a repeated highlight. The entrance via the hallway remained unused that day, instead the terrace was the entrance and the door to the hallway the exit. Many guests also returned to the terrace for a farewell photo. Our space in Spichernstraße surely cannot accommodate many visitors at once. But we have much storage space and - besides the central workstation for the office management - three (3) more workstations for help to come. How we have rebuilt our office for the Foundation's requirements, what solutions we have found, was often commented positively, which pleased us.
Finally, the weather came to our aid with sunshine at the right moment. After the tour inside, our guests were happy to use the space in front of the windows in the courtyard and on the terrace. Tables and chairs were quickly put out for this purpose. . . .

Here are some Photos: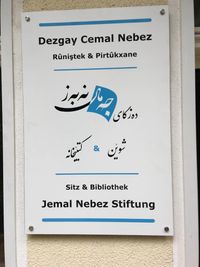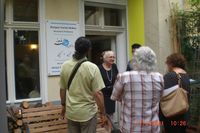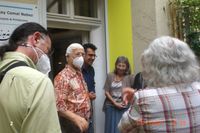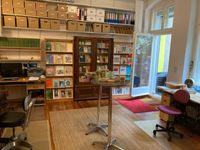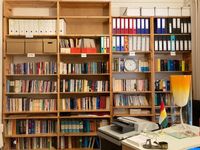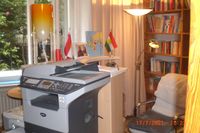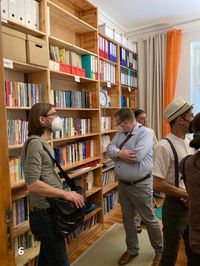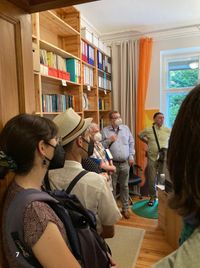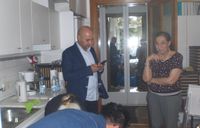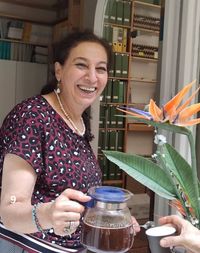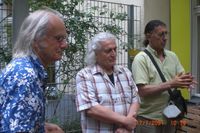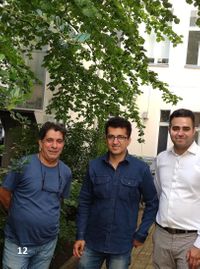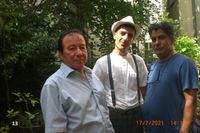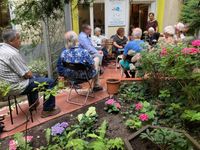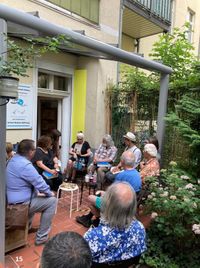 . . .

Many stimulating conversations in a pleasant atmosphere rounded off the day. We are already looking forward to the agreed continuation of the contacts made after the summer break. We thank all participants for their contribution to the success of our first Open Day, which is a valuable incentive for our next Open Day in July 2022.